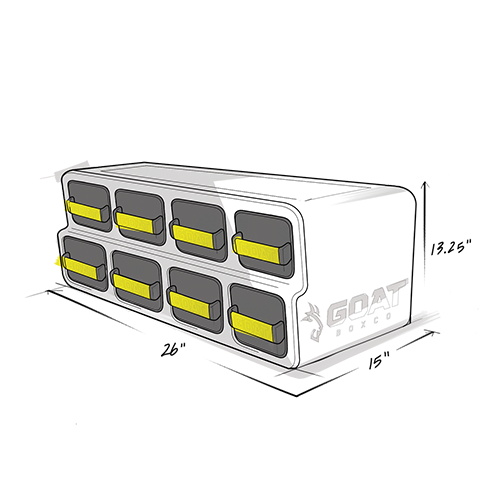 Dimensions (L x W x H) 26 x 15 x 13.25

Rotomolded, heavy-duty Hardcase™ construction for superior durability

Each rack holds eight canisters

Modular design allows stacking of multiple Racks for increased gear storage

Lockdown™ non-slip rubber feet
MISSION CONTROL
This garage/mudroom/workshop organizer is the mission control for all your adventures. It holds eight of our bomber GOAT CANs in one centralized location, providing a gear storage solution for your essential gear kits.
READY TO DEPLOY
With eight dedicated CAN slots to help organize the gear already in your garage as well as any of our curated gear KITs, the rotomolded RACK acts as the base station for your life. Grab what you need at a moment's notice, and get after it.
Features
HEAVY DUTY CONSTRUCTION
Rotomolded, heavy-duty Hardcase™ construction for superior durability and Lockdown™ non-slip rubber feet mean the the RACK will stand up to the abuse of your day-to-day life and out-there adventures.